Creature Carnival- Holmfirth Arts Festival 2016

The Holmfirth Arts Festival is nearly here!
We are so pleased to be part of it again this year
We will be helping to create a Creature Carnival inspired by the story of Holmfirth's Fenella the Tiger. This carnival will see wild and wonderful creatures on the streets of Holmfirth again!
We will be working with Handmade Parade of Hebden Bridge:
The Children's Art School has been given the category of birds so our older groups  have been busy designing and creating bird masks :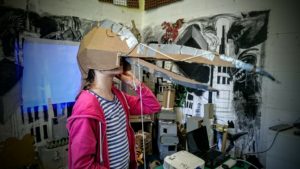 Do come and join us! the public workshops are completely free and you don't have to book! Let's make Holmfirth a spectacualr Creature Carnival!
Public workshops:
5th June 2pm – 5pm
10th June 4pm – 6:30pm
12th June 2pm – 5pm
16th June 4pm – 6:30pm